Alfin Aluminum Finishes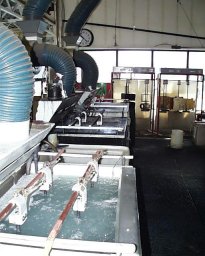 Prior to the formation of Alfin in 1990, Alzar Industries had been contracting out metal finishing services to other companies in Ottawa and Montreal. Alzar's experience with these companies demonstrated that they were not capable of providing quick turn around and consistent quality. Alzar recognized that its growth could only be assured by establishing it's own high quality aluminum irriditing and anodizing service.
Since the establishment of Afin, the range of services has been expanded to include electroless nickel plating, electrolytic gold plating, stainless steel passivation, and electropolishing. Plans are currently being made to double Alfin's anodizing capability.

The types of finishes that Alfin is currently able to provide are:
Aluminum Anodizing (Type II Classes 1 and 2) with a choice of either clear sealer or black, blue, red, purple, and gold dyes. Our maximum part length is 38 inches.
Aluminum Irriditing, also known as yellow chromate (Class 2) and clear chromate (Class 3) conversion coatings. Our maximum part length is 40 inches.
Electroless Nickel Plating on a variety of metal substrates. Our maximum part length is 16 inches.
Electrolytic Gold Plating (Type III, Grade A 99.98% pure) Our maximum part length is 16 inches. Most metals require nickel plating prior to gold plating.
Passivation of stainless steel.